SUBJECT: Create a dashed rectangle in Photoshop
PROGRAM: PSCS3 (can be adapted for other versions of Photoshop)
PREREQUISITES: Basic understanding of the layers palette, brushes and paths.
In digital scrapbooking a simple dashed line or rectangle can go a long way emphasizing a title, framing a photo, creating a visual flow or simply defining a space on a layout.  In this tutorial I'll walk you through the process of adding a dashed rectangle to a page.
Start with a digital scrapbooking layout in process.  Create a new layer for your dashed line/rectangle, Layer>New or Shft+Ctrl+N.
Select the Rectangular Marquee Tool from the Tools Palette.  Click and drag on your canvas to create a selection rectangle for your dashed line.
Click on the brush tool in the Tools Palette. Click on the small down arrow to the right of the word 'Brush' in the Options Toolbar near the top of the screen. Click on the small right pointing arrow in the upper right side of the drop down menu and select 'Square Brushes'.
Choose a Hard Square Brush (I selected the 14 pixel brush for a relatively thin dashed line).
If your Brushes Palette is not visible, go to Window>Brushes to bring it up.
Click on the Shape Dynamics section of the Brushes Palette.
Make sure all sliders are to the left (0%).  Turn off the Size Jitter  'Control'.  Set the Angle Jitter Control to 'Direction'.
Click on the Brush Tip Shape section of the Brushes Palette.
Slide the Spacing slider to the right until the spacing is as desired.
Adjust the roundness to change the square to a dashed tip.  I set mine at 44%.
Go to Windows>Paths to bring up the Paths Palette.  Click on the create path icon at the bottom of the Path Palette, then click on the stroke path icon to create your dashed line.
Continue putting the finishing touches on your page.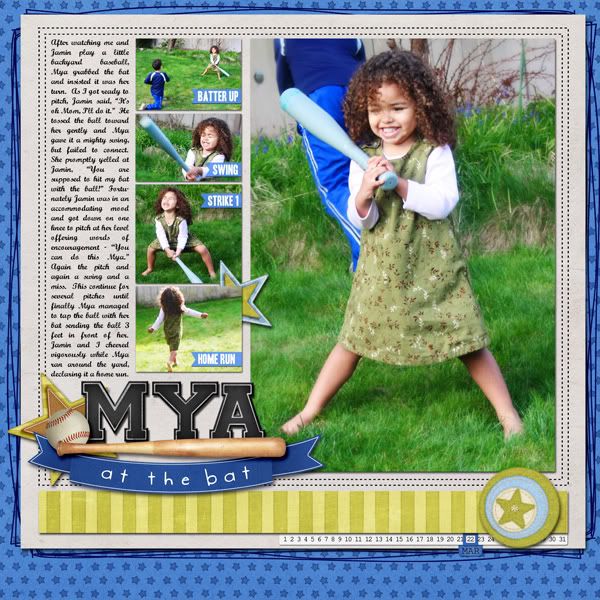 Credits: Kickin' It by Misty Cato, SSD – blue background, blue banner in title, alpha; Put Me in Coach by Julie Billingsley, SSD – green paper, stars, bat, ball; Date Bits 29, Misty Cato, SSD;  Squiggle Grunge 2 by Fee Jardine (retired); Fonts – CK Cheer Squad, DJB Gimme Space